Members testimony

Mr. Vladimir Stojanovic, Card Operation Officer, Piraeus Bank, Serbia


From my experience, the exchange of information is of crucial importance today. One cannot put a price on having the right information at the right time and being aware of what is currently going on. CEESCA Club is an excellent concept consisting out of presentations, exchange of information and gatherings (the famous networking). I must admit that CEESCA seems as if it is presenting a real future machine which tells us in which direction our innovation ship will be sailing as regards credit card business. All those days that I have spent listening to my colleagues from CEESCA definitely motivated me to come up with new solutions or at least to improve current banking products and services.
Mr. Primoz Patru, Operations Director, Diners Club, Italy & COO, Dinit Card Services, Slovenia
As a long time attendee at  CEESCA meetings, I have found them to be interesting and a rich source of information.  Due to the mix of members from different sectors and industries, one often obtains useful insights into how issues are seen from another perspective, which has great value in placing one's own interests into the wider context. CEESCA is an extremely valuable platform to bring together key industry players in what is a highly fragmented and complex application domain. In each case these are led by people who really know the business – they represent a very good use of a morning.
Mr. Bozidar Pavlovic, COO and Management Board member at Intesa Sanpaolo Card, Croatia
If we ask ourselves why we are here today, the answer is pretty simple. The opportunity given to you by the CEESCA membership is not something you should let go. We know the banks have the most experience in chip technology, but we can and we want to help other industries which would like to start using smart technology. Feel free to contact us, because it is in the interest of all of us (and not only financially, but also in terms of social responsibility) to support the projects, like for example e-government, e-health and etc. Such projects show that this was worth starting. The establishing of CEESCA club is a perfect opportunity for understanding all the experience (including the negative ones) regarding the new and old, successful and unsuccessful projects in different industries. By exchanging such experiences we will grow faster and accomplish goals that are in front of us.
Mr. Sasa Skrgic, Zagrebacka banka, Head of Acquiring, B2C Cluster, Croatia
I am very pleased to have opportunity today to wish you warm welcome according to my opinion very important event. We are living in the time of rapid and continuous changes. In the same time there are lot of opportunities on the market to increase our business but it is harder and harder to recognize and implement the right option. One of these opportunities is a smart platform. The Implementation of chip on the card has opened the door to business on the new level. Financial institutions  can enter to new environment together with partners from other segments. It is not future any more – it is happening now. I truly believe that CEESCA membership in this organization under supervision of Smartex as a global player, provides many advantages to do business in the smart card industry in terms of networking and education. This could become the place of sharing experience, place of bringing new ideas, implementations and projects on smart technology. And it will help us not only to know what will happen tomorrow but also what will happen the day after tomorrow too.
Mr. Blaz Svilicic, Director of the Production division at AKD, Croatia
From the very start AKD recognized a good idea that included gathering of representatives from industries, that manufacture or use smart cards, in order to exchange experience and ideas. Renowned companies that are members of the CEESCA club and their representatives present numerous interesting and current topics at CEESCA conferences that are also a good alibi to escape from busy every day life. CEESCA is a perfect match of business and pleasure that we all have been missing in our lives.
Mrs. Vesna Vucinic, Manager, Paneleven Group, Serbia
I welcome the CEESCA Club initiative in the CEE region. We should all definitely benefit from the access to information that is not in the public domain. In addition, CEESCA enables you to follow the latest trends and to quickly acquire new knowledge. Continuous nurturing of strong partner relations and business alliance enables us to reach the highest standards in providing services to our users. Of course, there is also a very pleasant organizational atmosphere which is just another advantage of attending CEESCA conferences.

Mrs. Ana Blazinic, General Manager at Cisco Systems, Croatia
Innovation has always been and always will be the main driver behind our industry. The changes are a daily thing and the speed is increasing as there are more and more channels and products in the market. However, sometimes it seemed that we have forgotten about ourselves in that race. And then CEESCA appeared – the perfect match of knowledge and experience. CEESCA is a positive example that is encouraging and inspiring the much needed discussion. CEESCA conferences have shown that everybody is ready to share their knowledge and that there is a lot that we can learn from each other by only exchanging experiences and ideas.
Mr. Robert Kajic, Sales Manager, Austria Card GmbH, Austria
Quite simply CEESCA is the best place for consistent access to People, Ideas and Information related to Smart technology in Cards, Mobiles and the Cloud. One of the ways for us to keep up to date on the various changes in the markets we operate in, is to attend the CEESCA Club meetings. The content of the day is always of use and the networking opportunities are the best I have experienced in the industry.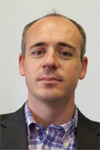 Mr.Tomaž Lešnik, Head of product development department, Banka Koper, Slovenia
Banka Koper was, is and will be deeply included in new technology, innovation and valuable experience for clients. Experience is already here – CEESCA. CEESCA brings quite large opportunity among smart card experts to share different view from various aspects. Networking and sharing knowledge could bring to us and to the clients satisfaction and usage. It seems that future will depend on people's behavior and trendy technology. It is our job to drive them to smart solutions. Mobophobia is here, don't forget it.
Mr.Amir Tabakovic, Head of Market Development and Board of Directors of Mobey Forum, POST FINANCE
CEESCA is my first professional contact with the region that I come from. I am grateful for the opportunity to be present and to exchange experiences and opinions with current trends in mobile payments with my colleagues from the CEE region and thus become a member of the CEESCA family during these two days.                         CEESCA is a professionally organized event with an excellent variety of international speakers and specialists from the CEE region who are faced with these topics discussed at this event on a daily basis and are capable to present them from their own experiences and point of view. This combination guarantees interesting discussions and is a great opportunity for a professional development.
Mr.Gerhard Romen, Director Financial Services, NOKIA
It s been a perfect experience and a pleasure attending CEESCA 2012. With highest quality speakers and industry insights, excellent industry representation all across Central and Eastern Europe and perfect networking with your peers every minute was well spent. Combined with a lovely location it was well worth attending and will going forward
Mark Bergdahl, CEO, Loyalty Consulting UK
CEESCA is a wonderful example of an organisation run entirely for the benefit of its members allowing them the opportunity to learn from an international speakers about the practical implementation and experiences of new card technologies, marketing techniques and associated solutions. The events organiser for CEESCA work extremely hard to make available a programme of meeting around the CEE region allowing participants to network and share ideas. The events are never overtly sales oriented, the speakers and delegates are free to mingle and share their ideas in a relaxed and friendly environment. I would not hesitate to recommend CEESCA to anyone interested in smart cards and their practical application in the world of business.
---
References
| | |
| --- | --- |
| 3V  TS - Ireland | |
| A BANKA VIPA - Slovenia | |
| AB VASSILOPOULOS - Greece | |
| ADAMSOFT  -  Slovenia | |
| AEPONA - Great Britain | |
| AGROKOR  -  Croatia | |
| AIK BANK  - Serbia | |
| AIRPORTS of  Macedonia  -  Macedonia | |
| AKD  -  Croatia | |
| ALGEBRA  -  Croatia | |
| APEX SOLUTION TECHNOLOGY - Serbia | |
| ASSECO SOUTH EASTERN EUROPE - Croatia | |
| ASSECO SOUTH EASTERN EUROPE - Serbia | |
| AUSTRIA CARD  -  Austria | |
| BAMCARD  -  Bosnia and Herzegovina | |
| BANCA INTESA BELGRADE  -  Serbia | |
| BANELLI  -  Croatia | |
| BANK ASYA - Turkey | |
| BANK KOPER  -  Slovenia | |
| BANKING TRANSACTION SERVICE  -  Czech Republic | |
| BBI Bank - Bosna and Herzegovina | |
| BUS PLUS - Serbia | |
| CALYPSO NETWORKS ASSOCIATIION  -  Belgium | |
| CARTA WORLDWIDE -  Great Britain | |
| CASSIS INTERNATIONAL  -  France | |
| CENT SI  -  Slovenia | |
| CERIS  -  Slovenia | |
| CISCO SERBIA  -  Serbia | |
| CISCO SISTEMI  -  Croatia | |
| COLLIS  -  Netherlands | |
| CONSULT HYPERION - Great Britain | |
| CREA PLUS -  Slovenia | |
| CREDIT ARGICOLE BANK SERBIA  -  Serbia | |
| CROATIAN BANKING ASSOCIATION  -  Croatia | |
| CROATIAN LOTERY  -  Croatia | |
| CROATIAN NATIONAL BANK - Croatia | |
| CROATIAN NATIONAL INSTITUTE OF PUBLICH HEALTH  -  Croatia | |
| CROATIAN POST - Croatia | |
| CROATIAN POSTAL BANK  -  Croatia | |
| CROATIAN TELECOM - Croatia | |
| DATACARD  -  Czech Republic | |
| DINERS CLUB INTERNATIONAL BELGRADE - Serbia | |
| DINERS CLUB ITALIA  -  Italy | |
| DINERS CLUB SLOVENIA  -  Slovenia | |
| DINIT - Slovenia | |
| DINOCOLOR  -  Slovenia | |
| DISCOVER - Great Britain | |
| dm  DROGERIEMARKT  -  Croatia | |
| DUNAV INSURANCE - Serbia | |
| DVLA - Great Britain | |
| EFUNDS  -  Slovenia | |
| ERSTE & STEIRMARKISCHE BANK  -  Croatia | |
| ERSTE BANK HUNGARY - Hungary | |
| ERSTE CARD CLUB  -  Croatia | |
| ERSTE GROUP - Austria | |
| ETRANET GROUP  -  Croatia | |
| EUROPEAN PAYMENTS COUNCIL  - Belgium | |
| FENBROOK CONSULTING  -  Great Britain | |
| FINA  -  Croatia | |
| FIRST DATA INTERNATIONAL  -  Croatia | |
| FIRST DATA SERBIA & MONTENEGRO - Serbia | |
| FRAUNHOFER INSTITUTE FOR SECURE IT-TECHNOLOGY  -  Germany | |
| GEMALTO - Czech Republic | |
| GEMALTO - France | |
| GEMALTO - Hungary | |
| GEMALTO - Sweden | |
| GLOBAL PAYMENTS EUROPE  -  Czech Republic | |
| GLOBAL PLATFORM - Czech Republic | |
| GREENWICH CONSULTING NORDIC  -  Sweden | |
| HEALTH INSURANCE INSTITUTE  -  Slovenia | |
| HEWLETT PACKARD - Croatia | |
| HID GLOBAL -  Switzerland | |
| HSM INFORMATIKA  -  Croatia | |
| HYPO ALPE ADRIA BANK - Bosnia and Herzegovina | |
| HYPO ALPE-ADRIA-BANK - Croatia | |
| IGEA -  Slovenia | |
| IKEA - Sweden | |
| INA  -  Croatia | |
| INFINEON TECHNOLOGIES  -  Austria | |
| INFINEON TECHNOLOGIES  - Gremany | |
| INGENICO - Hungary | |
| INTESA SANPAOLO CARD  -  Bosnia and Herzegovina | |
| INTESA SANPAOLO CARD  -  Croatia | |
| INTESA SANPAOLO CARD  -  Slovenia | |
| KARTSISTEM  -  Slovenia | |
| KONZUM  -  Croatia | |
| LANUS - Serbia | |
| LIBERTAS  -  Croatia | |
| LOGOS  -  Croatia | |
| LOYALTY CONSULTING  -  Great Britain | |
| MAISTRA - Croatia | |
| MARFIN BANK  - Serbia | |
| MARGENTO  R&D - Slovenia | |
| MASTERCARD - Bosnia and Herzegovina | |
| MASTERCARD - Croatia | |
| MASTERCARD - Hungary | |
| MBU  -  Croatia | |
| MERCATOR  -  Slovenia | |
| MERKUR – Slovenia | |
| MINISTRY OD INTERIOR OF REPUBLIC SLOVENIA  -  Slovenia | |
| ML CONSULTING  -  Ireland | |
| MOBEY FORUM  - EU | |
| MOBILE VALUE PARTNERS - Vodafon - Great Britain | |
| MOORE - Bosnia and Herzegovina | |
| NATIONAL BANK OF SERBIA  -  Serbia | |
| NLB - Slovenia | |
| NLB BANK  SARAJEVO - Bosnia and Herzegovina | |
| NLB TUTUNSKA BANKA  -  Macedonia | |
| NOKIA - Germany | |
| Nova KBM – Slovenia | |
| NXP Smiconductors  -  Hungary | |
| OBERTHUR TECHNOLOGIES - Hungary | |
| OTP BANK  -  Croatia | |
| PANELEVEN  -  Serbia | |
| PARTNER BANK  -  Croatia | |
| PBZ CARD  -  Croatia | |
| PENTA - Croatia | |
| PETROL  -  Slovenia | |
| PHOY SOLUTIONS  -  Finland | |
| PIRAEUS BANK  -  Serbia | |
| POST FINANCE  BANK -  Switzerland | |
| PRECISE BIOMETRICS  -  Sweden | |
| PRINTEC  -  Croatia | |
| PRINTEC GROUP - Slovenia | |
| PROXAMA - Great Britain | |
| RADECE PAPIRI  -  Slovenia | |
| RAIFFEISEN BANK  -  Bosnia and Herzegovina | |
| RAIFFEISEN BANK AUSTRIA  -  Croatia | |
| RAIFFEISEN BANK SERBIA - Serbia | |
| RAIFFEISEN BANK SLOVENIA  -  Slovenia | |
| RUSSIAN ELECTRONNIC MONEY ASSOCIATION - Russia | |
| Si Mobile - Sloveina | |
| SMARTSOFT Information Technologies  -  Turkiye | |
| STMicroelectronics  - Belguim | |
| TELECOM SLOVENIA – Slovenia | |
| TESCO - Great Britain | |
| TIC Bled – Slovenia | |
| TRING - Bosnia and Herzegovina | |
| TSM ONE - Croatia | |
| UL Transation Security  -  Netherlands | |
| UNICREDIT BANK  -  Czech Republic | |
| VABA BANK - Croatia | |
| VAKUFSKA BANK - Bosnia nad Herzegovina | |
| VALYOU TSM NORWAY | |
| VELLA VENTURES -  Great Britain | |
| VIPnet -  Croatia | |
| VISA EUROPE -  Turkey | |
| VISA EUROPE- Croatia | |
| ZAGREB AIRPORT  -  Croatia | |
| ZAGREBACKA BANKA - UniCredit Group  -  Croatia | |
| ZAPA TECHNOLOGY  -  UK | |
| ZIRAAT BANK - Bosnia and Herzegovina | |